Designer
Knitting Patterns
Designed by James. Inspired by fashion trends. Meant for daily living.
"My designer knitting patterns are inspired by the latest fashion trends from runway collections to what's worn on the street. Make them your own and express your personal style." ~ James
small projects
Purse Knitting
Whether you carry a little purse, a big purse or a man purse, choose one of our designer purse knitting patterns for small projects and knit wherever you go.
SHOP NOW
Exclusive
StitchSaver™ Row Checkers
Our unique StitchSaver™ Row Checkers keep track of stitch count row-by-row, plus increase and decrease shaping.
Knitting Help
Knitting tutorial videos, guides, definitions, and classes taught by James. With a smile.
LEARN MORE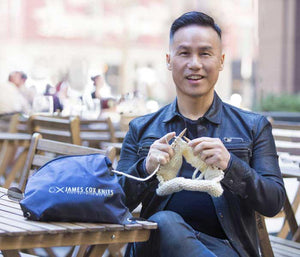 Stellar Reviews
BD Wong
"James Cox Knits offers patterns in a variety of moods – something for everyone."
More Reviews
As Seen In